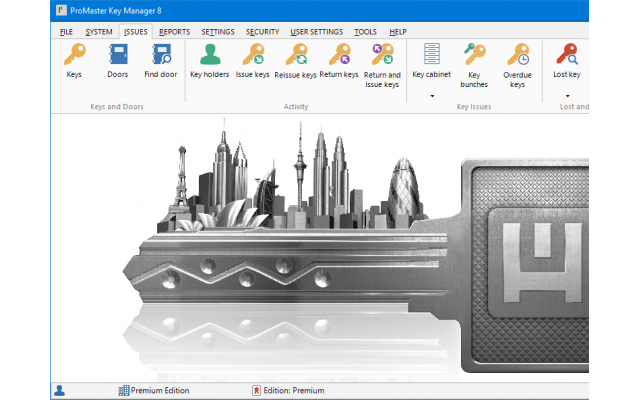 ProMaster Master-Keying 8 (PM8) – software for Locksmiths
The most comprehensive master-key system management tool.
At Independent Locksmiths & Security we have migrated from PM7 to PM8 and our team has received training from WH Software. This software supports the largest master-key systems and a wide range of lock products and key machines. This complete software solution allows us to design, create and manage master-key systems for our commercial and government clients. Integration is possible with a wide range of key-cutting and marking machines.
We are now offering our customers ProMaster Key Manager 8. This software is available for businesses that need to manage a restricted key system. It is designed to track who is a key holder and where they have access to within a premises. The software has a direct link to Independent Locksmiths & Security to allow customers to receive regular updates from us and to create orders for additional keys by email. We can send clients a data file from ProMaster Master-Keying 8 containing all the information about their system, which they can import into ProMaster Key Manager 8.
ProMaster Key Manager 8 – software for customers to manage restricted key systems


We have many clients using this software to track who is a key holder and where they have access within their premises. This provides the ultimate in effective security, allowing a business, school, or hospital to fully control key issue and return to staff and key holders. The importance and security significance of this task is often overlooked in many organisations, who despite having complex and expensive master key systems, have poor record keeping of who has which keys. Using key management software will keep you organised. Key holders usually have varying degrees of security clearance. ProMaster Key Manager makes it easy to provide multiple security levels with usernames and passwords for staff to access permitted parts of the program.
Simplified reporting system
With ProMaster Key Manager you can generate professionally designed reports that are clear and concise. Each report covers all aspects of your key tracking from issue to return:
An inventory of keys in your control, with the option to show doors and/or key holders
Key hierarchy – the keys in your system are presented in a tree-style hierarchy
Keying matrix – the keys and doors in your system are presented as a matrix with many options for what to show
Doors – the doors in your systems with the option to show keys and or key holders.
Key holders – the key holders that have been issued keys with the option to show doors
Compromised doors by the loss of keys
Key order history
Lost & broken keys with options to show who and/or when
Who do we recommend the Promaster Key Manager software to?
Many of our major clients have selected this comprehensive software program to provide the best in key tracking and management. These clients include:-
Schools and Universities
Manufacturing Companies
Real Estate Agents
Local Councils
Hospitals and prisons
Utility companies such as Endeavour Energy
Technology
This software is backed by a robust and secure multi-user database engine (Firebird 3) that is efficient and fast. Transfer of data over your network is transmitted securely to ensure there are no attacks on the integrity of your data. PM8 can be used on a single PC, on a LAN, or on a WAN. All data is under your control and on your premises.
If you need to tighten security at your business premises, we would be keen to discuss your requirements in more detail and design a system that is tailored to your needs. Call us on 1300 500 600, or read more about the key management software on our website.