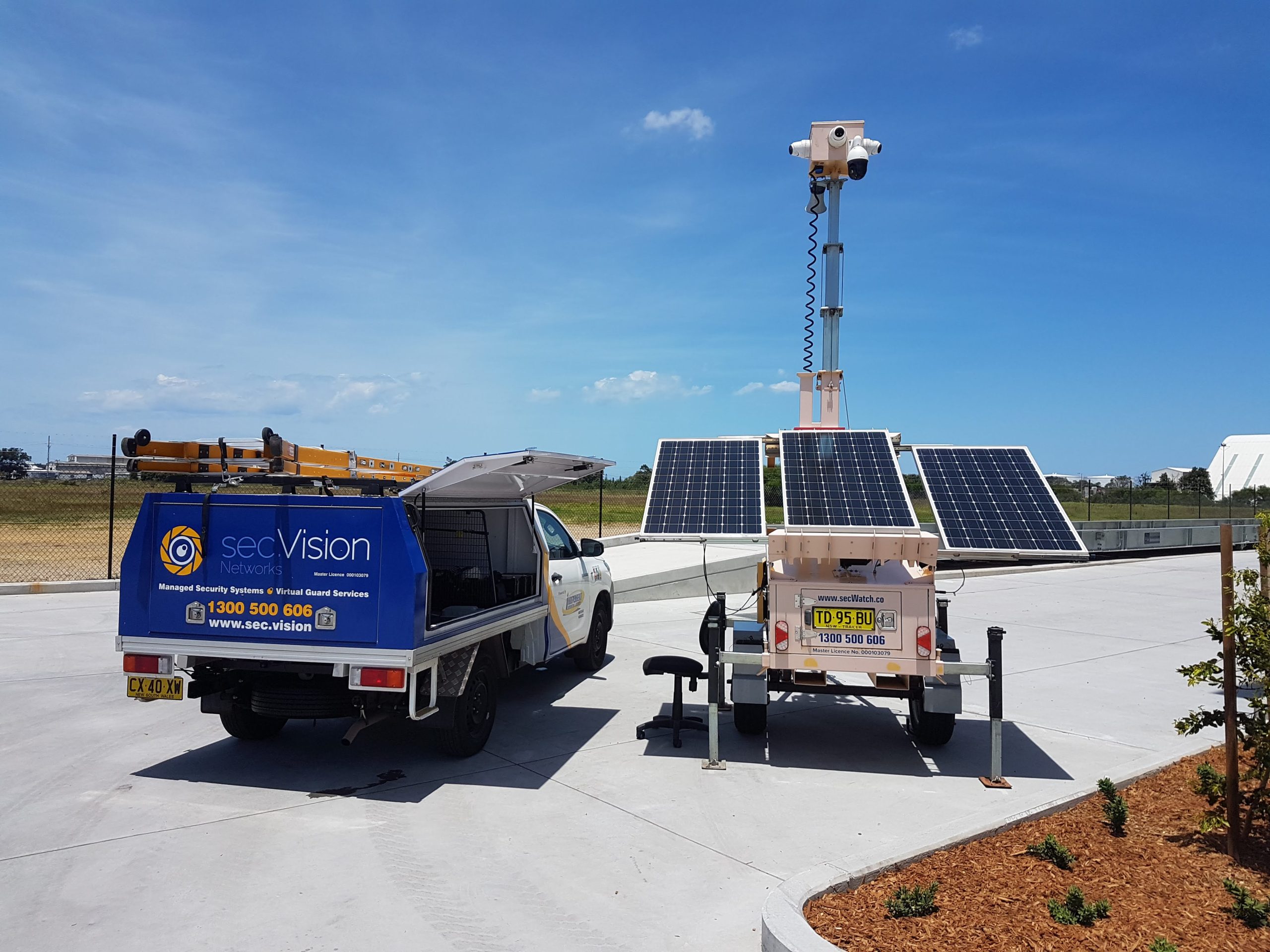 Independent Locksmiths & Security work with secVision Networks on the delivery of all Electronic Security. We can integrate access control with CCTV, Alarm Monitoring, and Restricted Master Keying so we can provide a Total Security Solution. 
The secVision Networks solutions are:
secCloud – Access Control
secWatch – CCTV cameras and Alarm Monitoring
We offer a Managed Security Service where we can Design, Install, Monitor and Maintain these security systems. 
Access Control
secCloud is a cloud-based security solution, delivering building security using a single card or fob across a building. This is an enterprise level access control system
secCloud helps you to make your building a 'Smart Building' with building automation which enables you to arm the alarm system, open doors, turn off lighting and air conditioning, all managed remotely on your laptop or handheld device.
The secCloud Managed Security System is ideal for commercial Real Estate Managers, Strata Managers, businesses with multiple sites and Local Councils with community halls and sport facilities.
secCloud operators control and monitor who has access to different areas of their Worksite or Office areas from anywhere, any time.
We offer Managed Security as a Service. Not only will we design the right access control system for your business, we have an experienced team to manage the installation process and then look after how you manage the system once it is installed.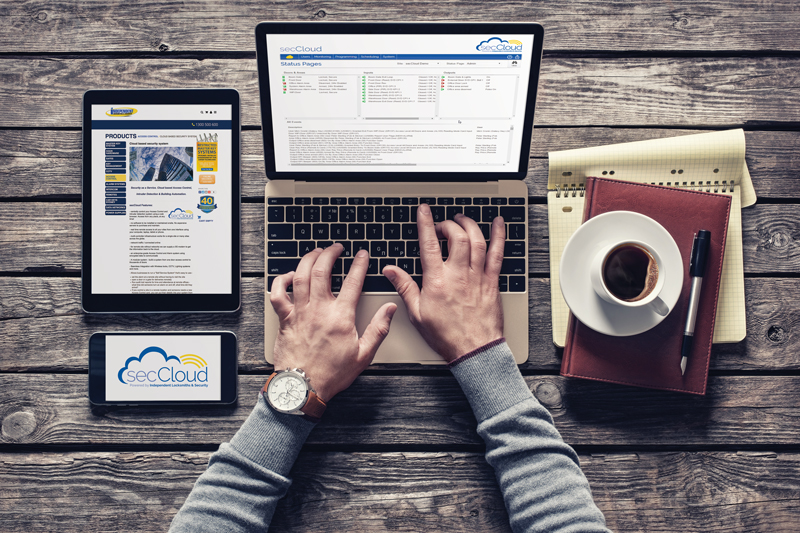 CCTV
secWatch Virtual Guard Services is a total CCTV security solution. Our Electronics Technicians install and maintain CCTV for a diverse range of clients. We have IT professionals on staff to specify and maintain high end server hardware solutions.
Following a location risk assessment, the CCTV cameras are installed along with any cabling required at a commercial sites. The high definition CCTV cameras record crisp sharp images. These images can be streamed to your phone, laptop, PC or back to our Security Operations Centre for alarm monitoring.
We also offer a portable CCTV system which incorporates a high definition CCTV camera that is mounted on a pole, with remote zoom and focus. No wiring or cabling is required and the system can be powered by solar panels. Recorded video footage can be downloaded using Wi-Fi This is an ideal solution for Builders who are wanting to temporarily monitor a building site. When the construction is finished, the camera can be disassembled and moved to the next construction site. It is also ideal for Local Councils wanting to monitor suspicious sites.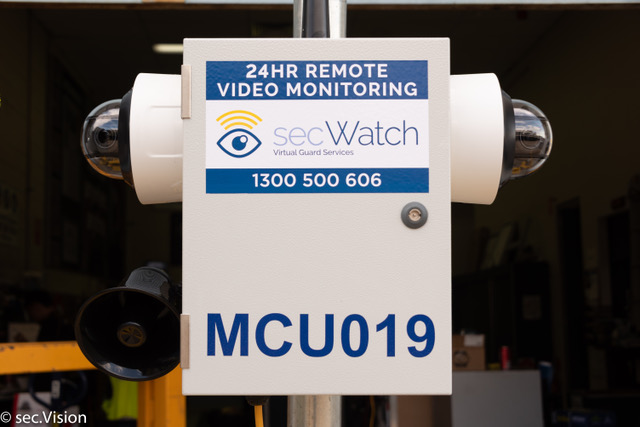 Alarm Monitoring
SecWatch Virtual Guards Stop Crime In Its Tracks
You can choose to have CCTV footage monitored by secVision Networks in the Security Operations Centre. Virtual Guards monitor CCTV footage using high definition cameras to see what is happening onsite. If there are unauthorised people on site the Guards can issue an audio challenge. Intruders are warned that they are trespassing and if they do not leave the authorities will be notified.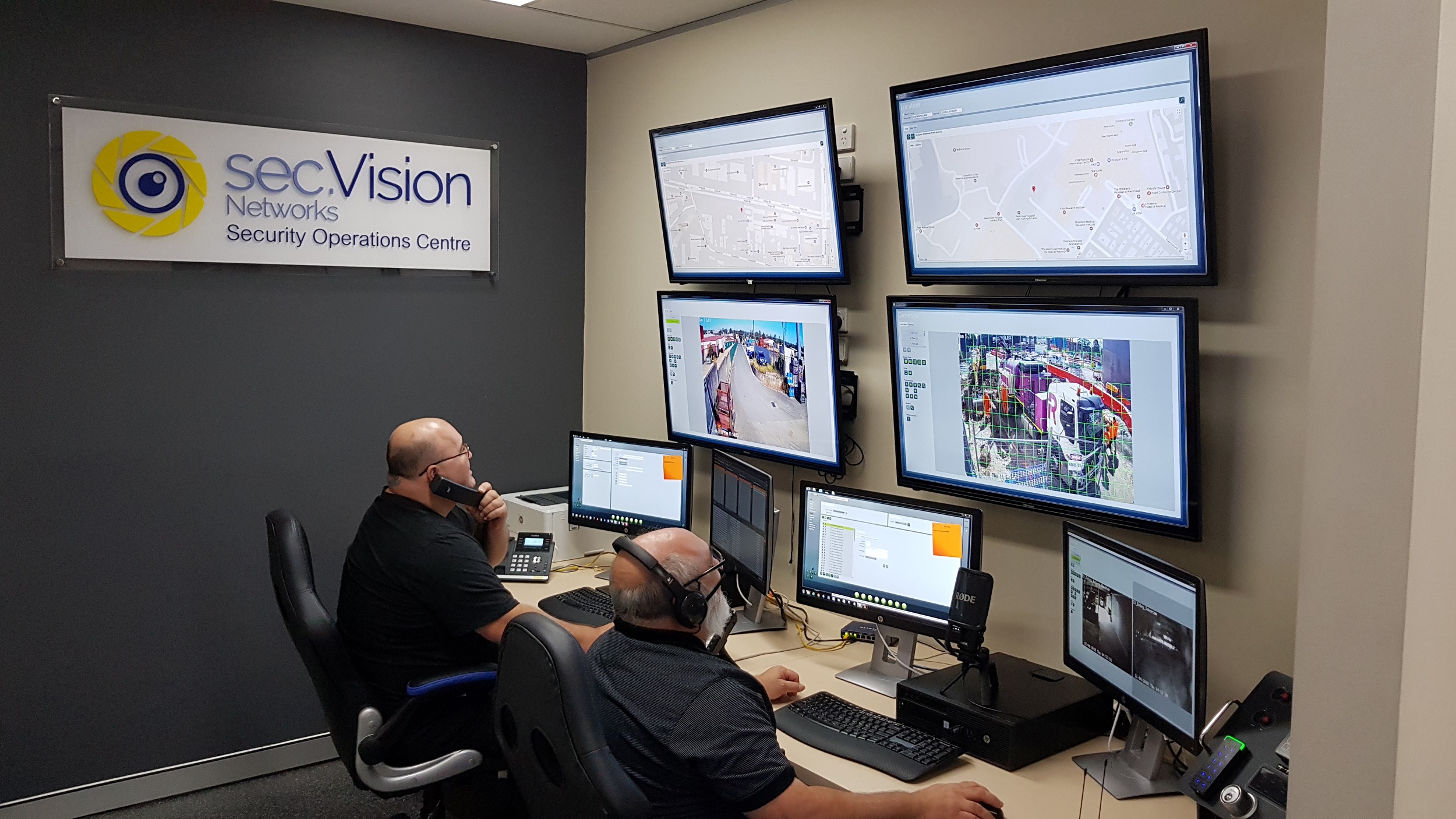 Preventative Maintenance
Preventative Maintenance of security equipment gives our clients peace of mind and confidence that their security systems are protecting their assets the way they were intended. Through equipment examinations and testing we can identify weaknesses in the security system that need to be repaired and re-enforced. This service covers all aspects of physical security including CCTV, Alarm systems, Access control, Locks, Panic Bars and paths of egress. Our maintenance programmes ensure your security systems are working at their best. Maintenance procedures and tests are followed for each piece of security equipment and a report is presented that outlines the results of the tests conducted.
Benefits of Preventative Maintenance
Compliance with Australian Standards and the Building Codes of Australia section D2.21
Insurance companies require that security systems must be maintained on a regular basis
Minimise business disruptions - prevent system breakdowns by maintaining your equipment
Maximise the working life of your system - repair faults before they become serious
Equipment performance tests - ensure your equipment is performing at its best
Security equipment regularly checked will reduce the likelihood of a malfunctioning detector
Peace of Mind - have confidence that your security investment is working the way it was intended
Keep records up to date - includes zone lists, key holder lists for alarm calls, access control card lists, key audits
Talk to us
Parramatta Store and Service Department
Open from Monday to Friday 8:30am – 5:00pm
Our Emergency Locksmith / After-Hours Service operates 7 days a week including Public Holidays. If you need urgent assistance, please give us a call.