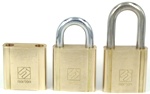 Independent Locksmiths & Security are a contracted supplier of Education Department (ES) school padlocks, required for perimeter security on school gates.
There are three choices of brass padlock, all at the same price, just differing lengths of shackle. All padlocks are keyed alike with a unique ES code per school. One key is supplied with each padlock ordered and additional keys can also be supplied if needed.  We can process online orders for your school. Orders need to contain the following information:
The school's unique ES number. (Example ; ES29)
Quantity of padlocks.
Type of padlocks needed.
EDU245SPECIAL – Brass padlock with no shackle for a custom gate fitting.
EDU245 – Brass padlock with a short shackle.
EDU245A – Brass padlock with a long shackle.
If your school already has an ES number, please advise the number on the order form. You can find your ES number stamped on one of your existing padlocks, for example, "ES24". Please let us know if you do not have an ES number already and we will provide one to your school with this order.
For more information and to complete an online order form. We ship directly to your school via Toll, or you can pick up your order from our Parramatta Retail Store if you are local.
http://www.independentlocksmiths.com.au/products/door-hardware/padlocks/school-es-padlocks