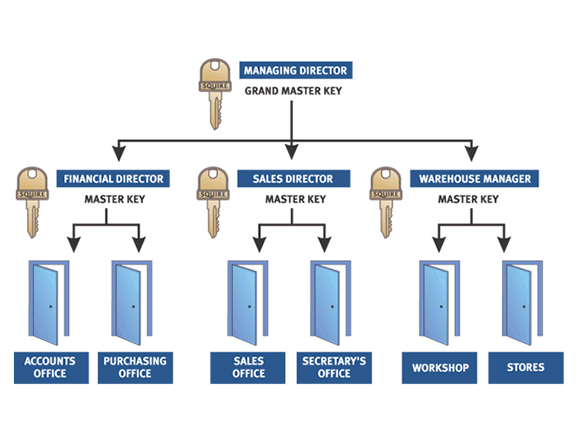 Restricted keying and design of master key systems is our specialty.
Master Key Systems are a series of locks individually keyed, but also accessible using an overriding Master Key.
The systems are hierarchical and restrict access that people have to different areas of a building. For example, a manager may be able to open all doors in a building whereas a staff member may only be able to open the front door and their office door. The following formats are available:
Grand Master Key: Access to all locks, all departments, all sites
Master Key: Access throughout a single building/department
Keyed to Differ: Key Access to individual offices
In a world increasingly challenged by security threats, the need for comprehensive locking systems has become an essential requirement in virtually every market sector. From government buildings and Police Stations to public institutions such as Hospitals and Schools and Universities, there is a growing demand for superior locking solutions that address a wide range of complex and sensitive issues.
At Independent Locksmiths & Security we are experts in the design and installation of Mechanical, Electronic and Hybrid Master Key Systems. We follow strict guidelines to ensure a keying system is not comprised, by verifying that the authority criteria has been met prior to keys
being issued.
The Mechanical master key system offers a scalable keying solution. We work with various distributors to offer a range of keying solutions that are scalable. Our team will help you select the best system for your environment, ranging from Commercial Grade, to High Security, and a Premium solution that is SCEC endorsed.
Talk To Us
Talk to us
Parramatta Store and Service Department
Open from Monday to Friday 8:30am – 5:00pm
Our Emergency Locksmith / After-Hours Service operates 7 days a week including Public Holidays. If you need urgent assistance, please give us a call.