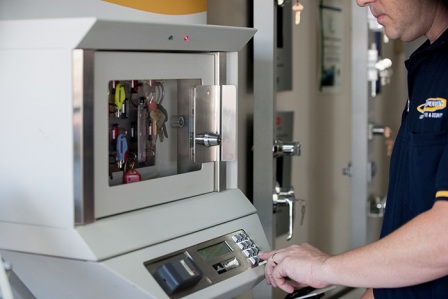 Managing key security in a Shopping Centre
Managing a shopping centre is busy work that runs around the clock, 24 hours a day. Keeping track of who has the security keys for various parts of the centre is normally the responsibility of a security team who signs out keys to contractors and tradespeople. It is important to keep track of who is responsible for the keys because if a significant key in a master key system is misplaced then the centre is at risk of illegal entry.
When a significant key is lost, a shopping centre needs to be re-keyed. This is an expensive exercise that takes up the time of operations staff within the centre to get the system re-keyed and redistribute keys.
In an effort to reduce the risk of keys being lost at the Castle Towers shopping centre in Sydney, Australia we installed a Keywatcher cabinet, to store a high-security Galaxy keying system and a wireless Access Control system by Salto Systems.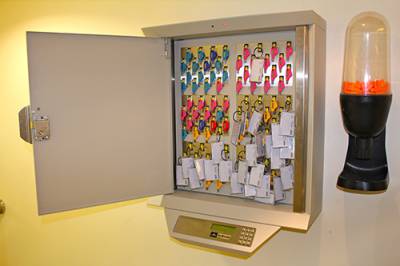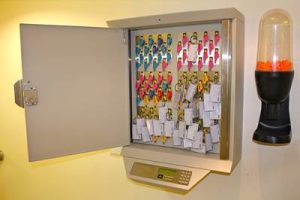 An electronic key management cabinet that is connected to a database on the local area network (LAN).
The 6-module cabinet holds 96 assets (assets can include keys and access control cards).
Users are given a 4-digit user number and a 4-digit PIN number to use on the keypad on the front of the cabinet.
Keys can be retrieved individually or as part of a group.
Grouping keys is useful where you have many identical key bunches in the cabinet such as operations, security or cleaners bunches for example.
When keys are retrieved from the cabinet a transaction is recorded in the database recording the user ID, the key number and the time it was taken.
Reports can be generated that show an audit trail of the transactions.
Security guards can easily release keys from the cabinet for a contractor without leaving the security office. When a contractor arrives at security to sign in and they require keys then the guard can release a key by entering the name and phone number of the contractor in the key record in the database and clicking a button in the software to open the cabinet and release the key.
Independent Locksmiths & Security specialise in security for retailers and can provide key management solutions tailored to your needs. Feel free to call us if you are interested in a Keywatcher cabinet in your business.
1300 500 600