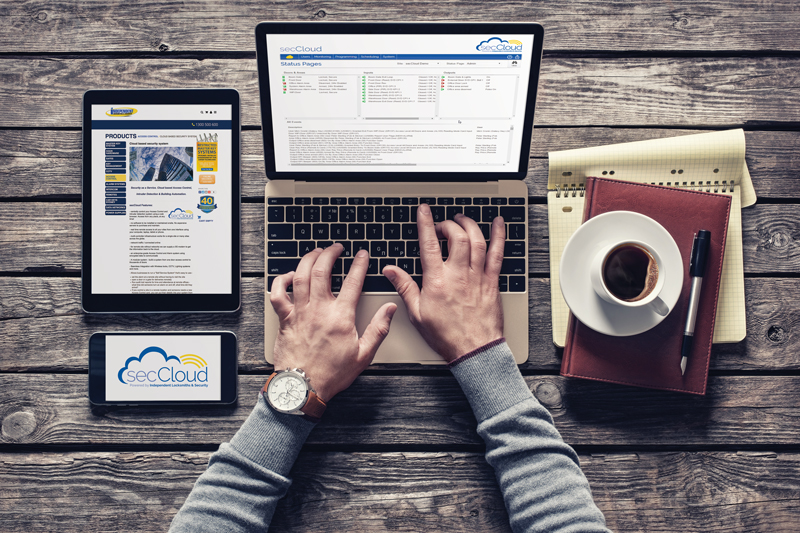 secVision Networks
Independent Locksmiths & Security work with secVision Networks on the delivery of all Electronic Security such as Access Control systems, CCTV, alarms and alarm monitoring services. The secVision team design, install, monitor and maintain managed security systems for commercial clients.
secCloud Managed Security System
secCloud is a hosted security solution. Access control, intruder detection and building automation are the core elements of the system. Built on enterprise grade hardware, secCloud is modular in design and infinitely scalable.
You can manage the security of your building and the safety of your people from anywhere at any time. The secCloud software gives you real-time remote access to your sites from one interface. Seamless integration with wireless locks, CCTV, lighting systems and more can help you run an energy efficient building.
secWatch Virtual Guard Services
secWatch Virtual Guard Services is a total CCTV security solution. Following a location risk assessment, the CCTV cameras are installed along with any cabling required at a commercial sites. The high definition CCTV cameras record crisp sharp images. These images can be streamed to your phone, laptop, PC or back to our Security Operations Centre for alarm monitoring. CCTV (Closed-circuit television) is the use of video cameras to transmit a signal to a specific place, on a limited set of monitors. The components of a CCTV security camera system include CCTV Cameras, a recording device that includes the CCTV software and display monitors.
secWatch Virtual Guard Services offers Alarm Systems & Monitoring from a 24/7 Security Operations Centre, where virtual guards monitor the premises using the high definition cameras to see what is happening onsite.
The secWatch mobile camera units are available to purchase as a single, twin or triple camera unit.
Talk to us
Parramatta Store and Service Department
Open from Monday to Friday 8:30am – 5:00pm
Our Emergency Locksmith / After-Hours Service operates 7 days a week including Public Holidays. If you need urgent assistance, please give us a call.